Career Guidance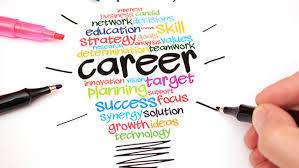 Career planning
Building career  is very important phase in ones life. Around graduation days, many start feeling the need of building career but it should start much earlier, to be precise in class IX and X only.
It is not something that you do once. It is a repeated exercise. Many times it changes its course.
Today's workplaces requires up to date individuals and thus career management planning comes in picture. Employers always want to recruit and retain employees who constantly value to the organization. Now you have to update and upgrade and properly market yourself to have an edge over others.
Here are 10 noteworthy points you should consider right now to develop a career plan that will get you where you want to be professionally:
1. Your Resume should be updated timely
Important step in planning for the future of your career is to keep looking for right opportunities and present yourself to them. An updated resume will always help you respond instantly.
2. Regularly keep introspecting
Find a day or weekend at least once a year and schedule time to truly focus on what you want out of your career. You can do this at the beginning of a new year. You can plan the whole year and make your moves accordingly.
3. Keep a close watch on your career path.
Focus increases productivity and performance, so take time to think about your current situation and the path you want to follow. Are you happy with your career path so far? What could you have done better or differently? What can you change in the future? When you understand yourself and what you really want, it's a lot easier to create a plan that suits your goals both personally and professionally.
4. Study, think and revise on what you like, dislike and feel comfortable with.
We change as we grow older, so it's always a good idea to reflect on what you feel strongly about in your life and career. Make a list of pron and cons about your current job. Hopefully you still enjoy a lot of your work activities, but if that's not the case, it might be time to start considering a new job or career.
It's also important to have a clear and meaningful purpose that you find passionate and emotionally connecting. What do you really need from your work? To make a difference? To become financially independent?
5. Achieve and keep a track of it.
Learning to track and jotting down about your willingness and achievements will help you well when working toward your upcoming career goals.
6. Your skills and reward may be more promising somewhere else.
At times you should look beyond your current job also by considering your goals and how the skills you have now would be useful in a new role. You never know your next hire or a startup is going to hit bulls eye. Keep updating and keep adding new skills.
7. Focus on our career goals and set it accordingly
Imagine playing football without goalpost. Where will you score. Similarly where are you heading, you should know. Short term and long term goal planning should be thumb rule for you. You can always adjust later like sail is adjusted when direction of the wind changes.
8. Keep yourself up to date with latest information and knowledge.
You should never stop learning. Join new training programs, skill enhancement workshops, attend seminars, do research work. Idea is to keep enhancing your skills so as to keep pace with others.
9. Interpersonal skills and relationship management are important phases of career
You should develop an art of building and maintaining relationships with other human beings. keep contacts and maintain a healthy relationship with everyone as far as possible. It will help you grow both personally and professionally.
10. Do not behave like frog in a well
Boss, if you really want something out of your career you have to leave your comfort zone. Frog in a well thinks that the world is this big only, because he has never seen the ocean. You are not a frog. Get up ! Behave like a wise human being. Put in some extra effort, take some extra pain. Go out and conquer the world. The world belongs to you and is waiting for you.
It seems we can't find what you're looking for. Perhaps searching can help.